Architects and customers are specifying more and more stain grade millwork. Even with your greatest efforts, some woodwork will be damaged during construction. When the punch list shows up with dents, scratches, mars and other wood damage, what do you do? These expensive items must be restored, repaired, and refinished to the original condition or replaced in order to make your customer satisfied.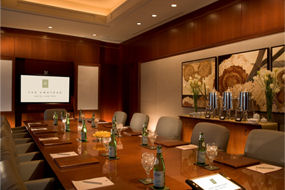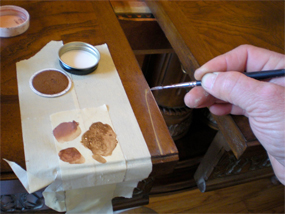 This is where we come in. We take care of damaged wood or furniture quickly with the least expense to you. We are Alkat Restoration - providing you on-site restoration of your millwork, wood doors, cabinetry, furniture, and peace of mind! We provide this unique wood touch up and repair service to more contractors in the Carolinas than any other restoration company in the area.
Sign up for our Faux Finishing Class
Our production touchup services include:
Damaged wood Faux Finishing
Millwork repair
Cabinetry touch up
Damaged Faux Finishing
Laminate repair
Color match and finishing
Strip and refinishing
Hardwood refinisher services
Leather repair
Residential wood refinisher
Wood fabrication and repair
Faux Finishing to Enhance Any Room
Do you love the look of texture walls and surfaces? Then Faux Finishing may be for you. At Alkat Restoration, we're your Chapel Hill Faux Finishing experts. We can provide Faux Finishing for doors, walls, and fine furniture. If you're looking for a different look for your Chapel Hill home or business, ask us about Faux Finishing.
Faux Finishing is usually a textured approach to painting and is a form of replicating materials such as leather, marble, or wood with paint. Faux Finishing can give a room warmth and depth. If you're really looking to give your Chapel Hill business or home a unique interior look, it's time to find out more about Faux Finishing. Alkat Restoration has a team of experts ready to serve Chapel Hill clients with the finest Faux Finishing services available.
Faux Finishing: An Easy Way to Add Character to a Room
There are a couple of different methods used in Faux Finishing. Glaze work for Faux Finishing usually involves a translucent mixture of paints that are smoothed on the surface and feel smooth to the touch. Plaster for Faux Finishing is applied with a spatula and can result in more texture to the touch. Either way, Faux Finishing is perfect for Chapel Hill homes and businesses because it adds more composition to a room. Keep your Chapel Hill home or business looking fresh and modern with a variety of finishing, restoration and repair options available.
Doing Faux Finishing yourself can be time-consuming and messy. Call us at Alkat Restoration if you need help with your Faux Finishing projects. Why not have our experts come to you in Chapel Hill to provide Faux Finishing, repair, or restoration? Save the time and hassle of driving all over Chapel Hill and let us come to you or let us help you in our specially equipped headquarters. From Faux Finishing to structural repairs, we're qualified professionals that can provide you with the perfect finishing touch.